Taiwan Mercedes-Benz
Content Hub Redesign
Levelling up the user experience to keep staying tuned on Mercedes-Benz's news and events.




MY ROLE –
UI DESIGN / ART DIRECTION

The official content site of Mercedes-Benz needs to refresh and add new test drive feature into the new one. The project aims to improve the original site as well as enhance the user experience to let audience understand clearly while broswing the site.
Current Content Hub Homepage︎︎︎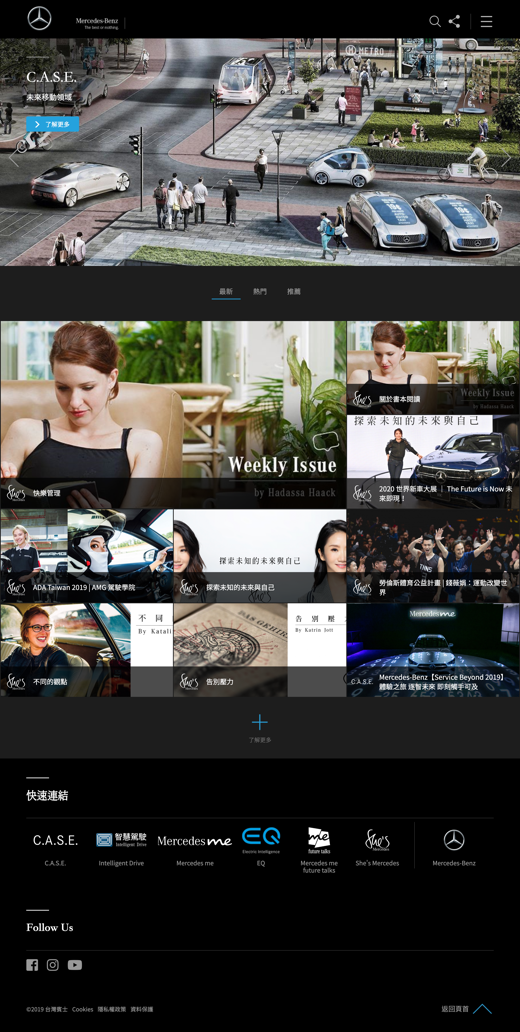 Pain Points
The content is highly repetitive and the information structure is too obscure to provide clear navigation guidance.







Hard to communicate
Abbreviations or proper nouns are used in the six themes, and lack of proper descriptions can easily confuse users and reduce the probability of clicking to read.
Low readability
The article is monotonous and the content display width lacks a proper design. When there is a lot of content, the shortcomings of typesetting are more prominent.
Current Test Drive page︎︎︎
Pain Points
Unclear architecture
The fields of different levels are listed in the same block with the same form of fields, which may cause misunderstanding by users.


Uncontrollable
After choosing a dealer or car model, it cannot be changed after filling in the information page, which is not convenient to operate.
Lack of guidance
If the dealer does not have a car model that the user wants to test drive, in addition to the notification, it does not provide appropriate instructions or tips for action.
"The design aims to increase the contents' value and growth as well as guide the users to register the test drive experience."